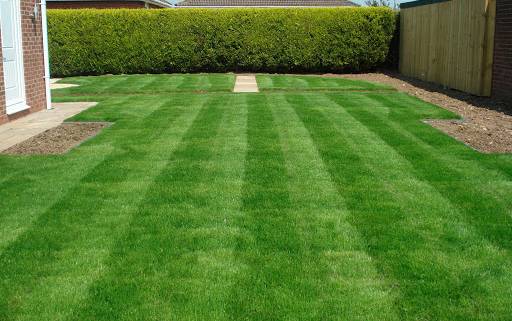 A reel mower not only makes the grass look better, it is also healthier. A reel mower operates like a pair of scissors. Two blades come together to actually cut the blade of grass. A rotary mower actually rips thru the grass. With a reel mower, the cut is clean and straight. Thus, it heals quicker and is less likely to get a turf disease. With a reel mower it is imperative that the grass is cut regularly. This means at least weekly. The blade of a reel mower is designed to cut the soft blades of grass. If you allow the grass to grow to long or allow the grass to develop a seed head then the reel mower will have difficulty in cutting the grass. You will also find that you have to keep your yard weed free. Reel mowers are designed to cut grass not weeds. Weeds and stems of seed heads are thicker and are the reel mower is not designed to cut these thicker objects. Furthermore, weeds and seed heads will dull the blades of a reel mower.
Cost is another issue in making a switch to a reel mower. A good reel mower like a tru-cut or a Locke will cost between $1500 to $3500. You will also have to sharpen your blades a couple of times during the season; more if you have a larger yard. Backlapping and grind the reels will cost on average about $125. The annual service cost of the reel mower for a homeowner is about $300 to $400 a year. If you have your home maintained by a landscape professional there is additional cost in using a reel mower. There is the equipment cost and maintenance cost mentioned above, and it takes 30% to 50% longer to cut the turf area. A homeowner should expect a 10% to 30% increase in the landscape maintenance cost.
https://www.creechlandscape.com/wp-content/uploads/2020/03/unnamed-1.jpg
384
512
wschaefer1
https://www.creechlandscape.com/wp-content/uploads/2020/02/creech_color-300x154.png
wschaefer1
2019-06-12 15:04:36
2021-08-04 14:07:03
Does a reel mower make a difference?