Add Seasonal Color to Your Property with Annual Flowers
Nothing creates an impact quite like seasonal color plants. Annual flowers add beauty and variety to every season. From spring favorites like petunias to hardy winter bloomers like violas, seasonal color provides year-round visual interest. Whether planted in garden beds or arranged in containers, seasonal flowers bring texture, color, and interest to your landscaping.
Maybe you're looking to enhance your home's curb appeal, update your commercial property's aesthetic, or celebrate the season. Or perhaps you simply want to change things up in your garden. Whatever your objective, the design professionals at Creech Landscape will work with you to bring color and vibrancy to your yard.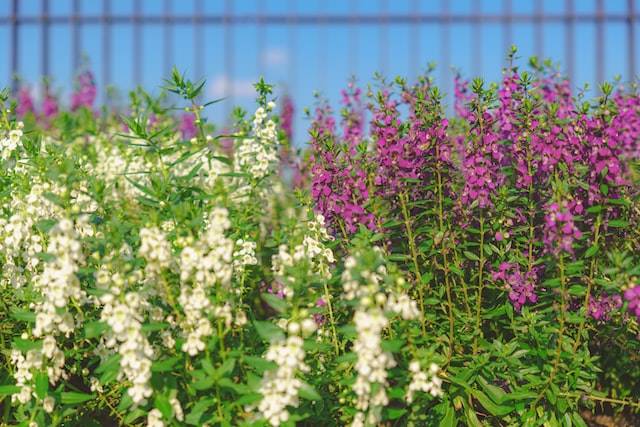 Advantages of Annual Flowers and Plants
As their name implies, annual flowers germinate, bloom, and die within a yearly growing season. Their short lifespan means that they grow faster and bloom longer than perennial plants, which return year after year. Annual blooms tend to be both large and vivid because they have a short time to attract the attention of pollinators. Their quick growth and abundance of colorful blooms make them excellent candidates for seasonal plantings.
Many annuals are also low maintenance, so they don't require a lot of upkeep once they're installed.
While spring and summer are often filled with color, fall and winter can bring garden challenges. Exposed bark and twigs add texture. Evergreens provide substance. But color is often lacking.
That's where annuals come in. Fall flowers such as mums and sunflowers bring color and contrast to your garden. In the winter, pansies and ornamental cabbage add welcome cheer.
If you're unsure which annuals to choose for your landscape, our designers can help you create a complete garden plan.
The Creech Landscape team are experts at plant selection and flower bed preparation. With the Creech crew, you can be confident your seasonal plantings will thrive with brilliant show-stopping color year-round.
Annual Flower Color for Every Season
Spring and Summer Seasonal Color
Spring: begonias, new guinea impatiens, petunias, vinca, verbena (deer resistant) and salvia (deer resistant)
Summer: coleus, zinnias, lantana (deer resistant)
For best results, these annual flowers should be planted mid-April through the end of May. We begin taking orders at the beginning of March.
Fall & Winter Seasonal Color
Fall: Chrysanthemums
Winter: pansies, violas, ornamental kale and cabbage, mustards (green foliage), snapdragons
For best results, plant after October 15th. We also recommend installing netting to protect them from deer, which are more of a problem during winter. We start taking orders for fall color and winter color after Labor Day.
As seasonal color specialists, Creech Landscape can help you choose the right annuals for our North Georgia growing zones. We do the work, and you just sit back and enjoy the show!
Here are some more Seasonal Color Favorites for Alpharetta and Metro Atlanta (Zones 7-8 USDA Hardiness Scale)
At Creech Landscape, we're dedicated to making your property look its colorful best. Every season. Every time.
Have more questions or want help adding seasonal color to your metro-Atlanta landscaping? Contact us to get started.