If you've been thinking of enhancing your outdoor living area, our outdoor fireplace ideas will jumpstart your creativity.
Fire is elemental, making it a natural focal point. The addition of an outdoor fire feature can transform your patio, pavilion or yard into an outdoor gathering place for all four seasons. Family dinners, neighborhood barbeques, and other social functions will be more fun to host.
Gather around for some outdoor fireplace ideas that will add warmth, function and style to your outdoor space.
Modern Outdoor Fireplace with Built-In Wood Storage
Many homeowners enjoy the traditional ambiance of a wood-burning fireplace. Even if your aesthetic leans towards more modern fireplace design, using wood as fuel remains popular. Crackling logs, an outdoorsy smell, and bright orange embers all contribute to the cozy feel.
However, wood-burning fire features require plenty of wood. As a result, the most convenient and attractive way to store that wood is a common concern.
A built-in firewood cubby or cabinet provides easy access. It also offers protection from the elements, ensuring your wood stays dry and usable. Further, the warm tones and rough texture of the wood itself can be aesthetically appealing.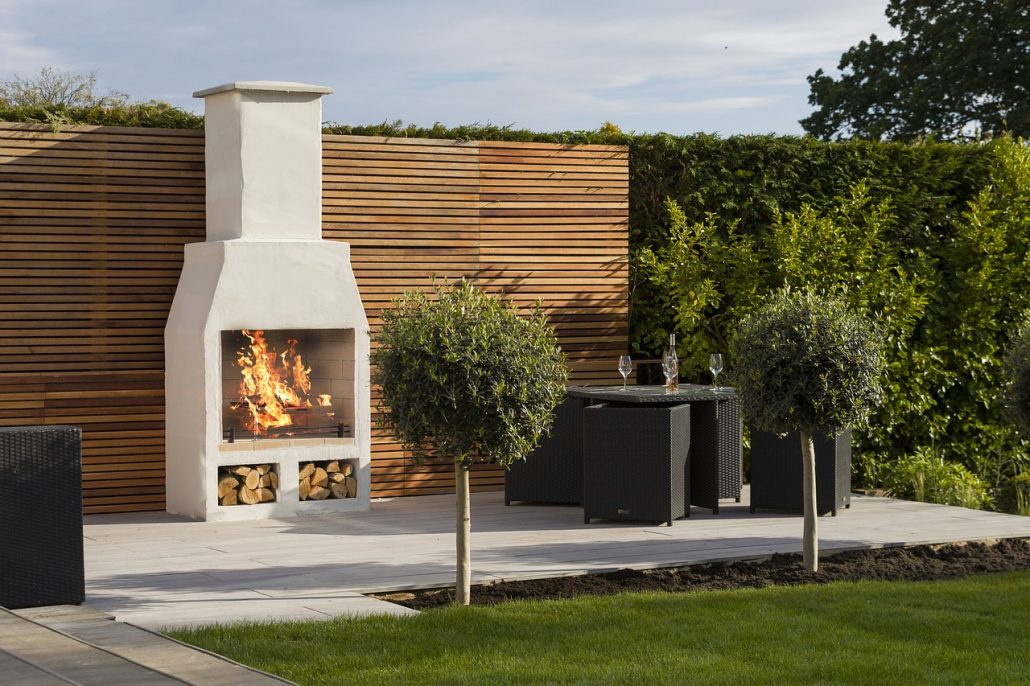 Intimate Outdoor Dining Made Easy
Food is an integral part of outdoor entertaining. A fireplace can warm up your outdoor dining area – literally. The added heat from an outdoor fireplace extends your space's usability. It enables you to entertain guests or enjoy a cozy family dinner even on chilly evenings.
Additionally, the bulk of an outdoor fireplace helps create privacy. Featuring a stone wall, raised flower beds and strategic landscaping, this fireplace installation offers an intimate dining spot. It's also hidden from the view of nearby neighbors.
For added convenience, the gas fireplace logs eliminate the need for wood storage. This not only decreases hassle, but also frees up space for decorative landscaping.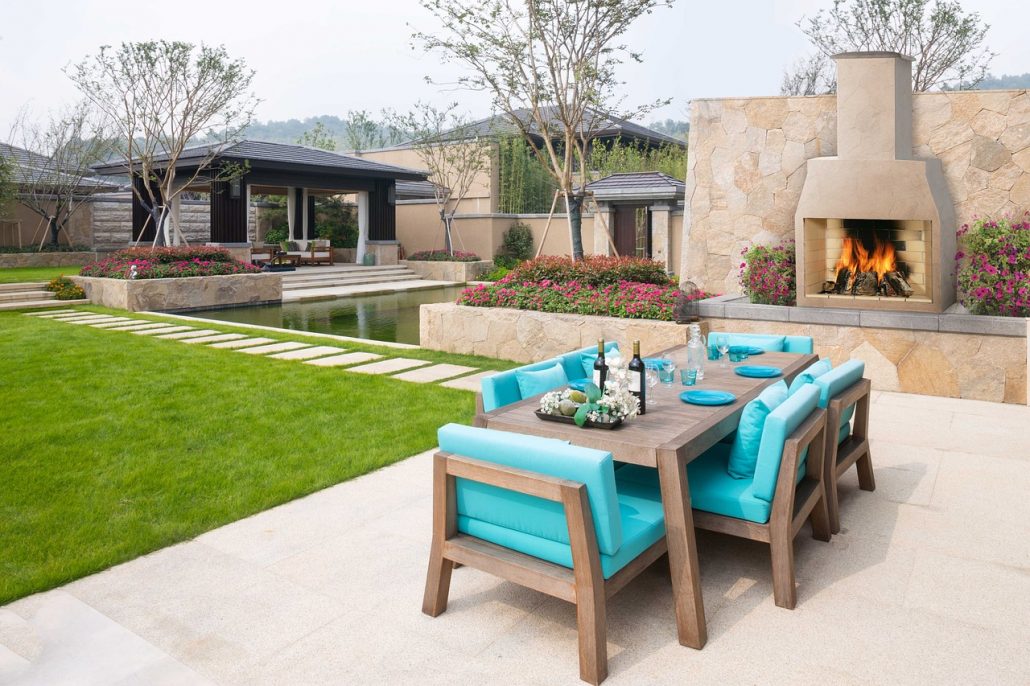 Warm Up Your Porch or Covered Patio
Porches and covered patios already have the benefit of protection from the elements. The addition of an outdoor fireplace helps make those spaces even cozier and more usable.
This brick fireplace combined with plaster suits the rustic feel of the log home, anchoring the outdoor living room.
Whether relaxing with a book or sharing a bottle of wine with friends, an outdoor fireplace enhances your ability to enjoy your protected outdoor living space.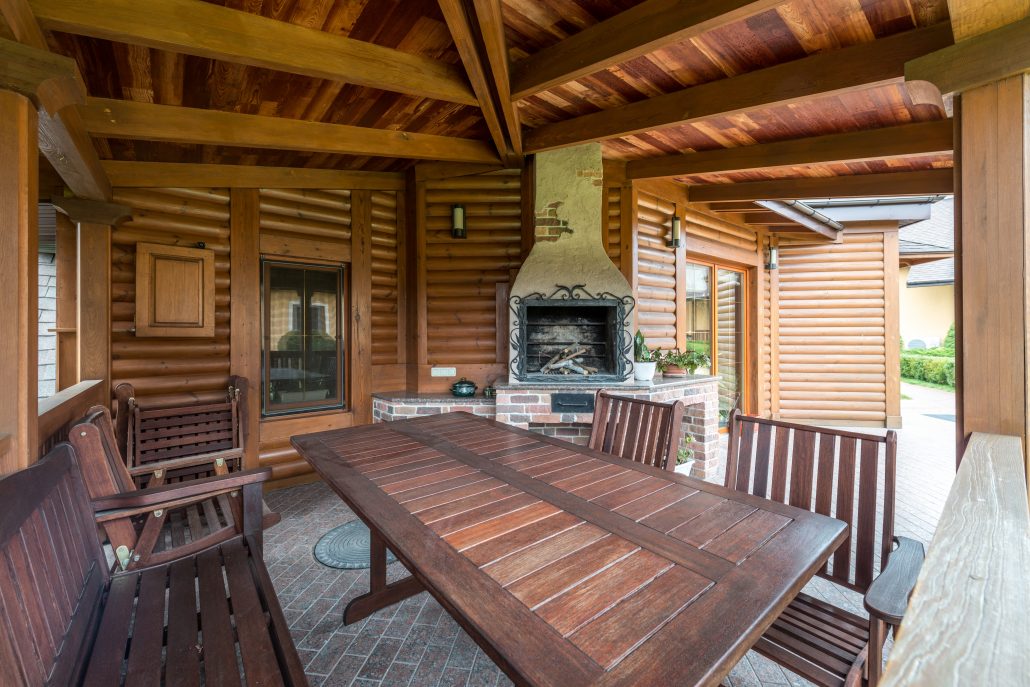 Enhance Your Poolside Living
Like fire is an essential element, so is water. Consequently, combining the two is one of the most effective ways to take full advantage of the outdoors.
A backyard pool is one of the most popular outdoor home improvements. Pools can enhance personal enjoyment, improve health, and offer more dynamic entertaining. As a result, a pool offers some of the best of outdoor living on your own property.
The addition of this stone fireplace extends the homeowner's ability to enjoy their pool in cooler weather. Even if swimming season has passed, a pool area provides an attractive and spacious area to host social gatherings.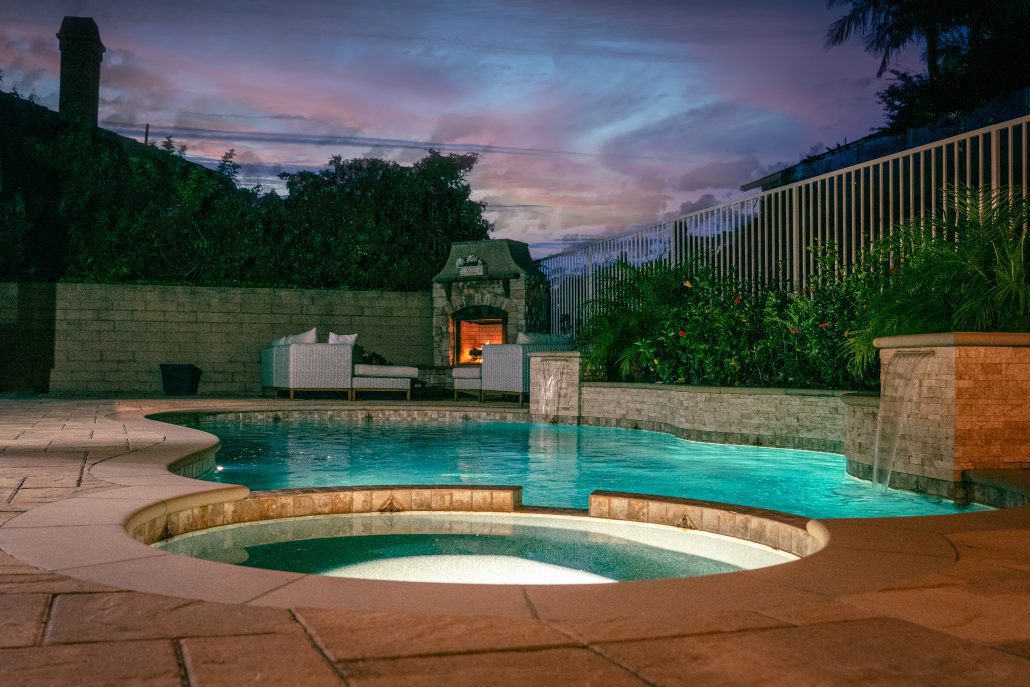 Make Your Own Brick Oven Pizza
One of the most popular trends in outdoor fireplace ideas is combining the fireplace with an outdoor kitchen and pizza oven. This combination provides all the benefits of an outdoor fireplace with the convenience of hot, made to order pizza.
Guests will be able to choose their own toppings. Kids, friends, and neighbors will all enjoy the fresh taste. They will also experience the fun of watching the pizza while it bakes.
Above all, adding a built-in pizza oven to your outdoor fireplace is a great way to elevate your entertaining. By providing easy access to food, it also simplifies your outdoor living.
Consider a Backyard Fire Pit
If an outdoor fireplace doesn't suit your needs or aesthetic, you may want to consider a fire pit instead.
A more casual alternative to fireplaces, an outdoor fire pit brings to mind campfires, toasted marshmallows, and outdoor fun.
Like fireplaces, fire pits provide a focal point for your outdoor entertaining space. Enhance them with movable chairs or a permanent seating area. Further, outdoor lights add beauty and improve usability.
Combine a fire pit with other entertainment options like a bocce ball court or an outdoor bar. These fire pit ideas can help turn your backyard into the social hub of the neighborhood.
Incorporate a Fire Pit into Your Hardscape
If your existing hardscaped area lacks interest, adding a fire pit can help. Gas fire pits and propane fire pits are both good options if drifting wood smoke is a concern.
This patio fire pit anchors the lower-level, creating a new conversation area for evening and cool weather enjoyment.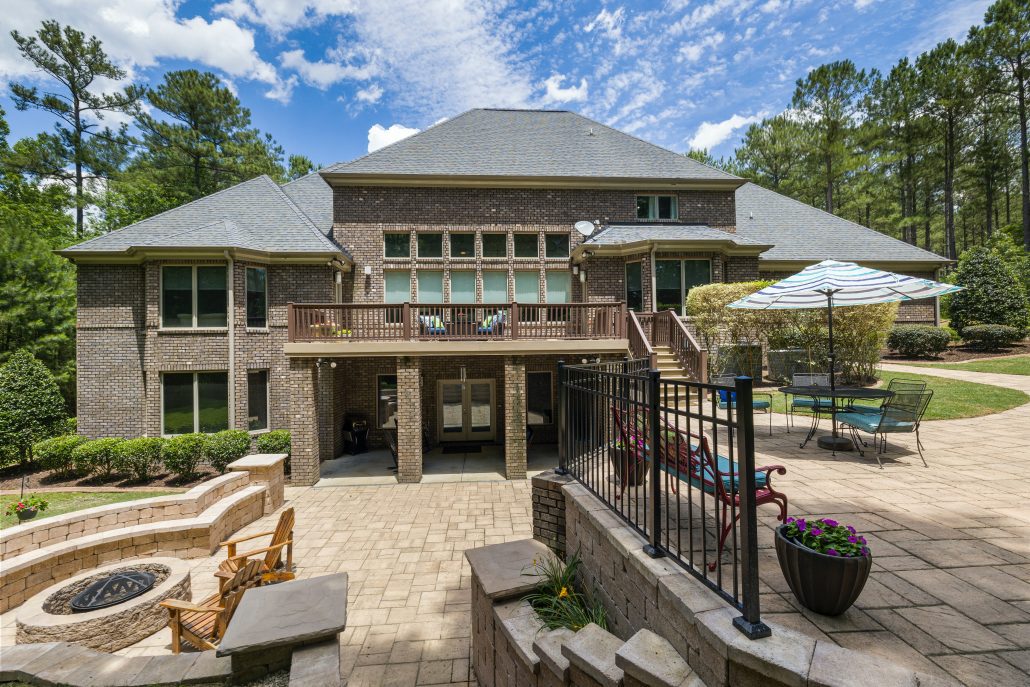 Create a Magical Backyard Retreat
Reminiscent of traditional campfires, this wood burning fire pit draws family and visitors to the backyard. Moreover, the addition of an arbor and bistro lighting makes it a festive outdoor entertaining space.
If you're interested in more outdoor fireplace ideas, or backyard fire pit information, contact Creech Landscape at 770-988-4635. We're happy to help with all of your landscape and outdoor living needs.