Are you looking to transform your Atlanta backyard into a poolside paradise? We're here to help you make a splash with our amazing pool landscaping ideas. Whether you're planning a serene retreat or a lively entertainment space, we have the perfect suggestions to create an oasis right in your own backyard.
Create A Tropical Paradise
Who doesn't love to feel like they're on vacation? Transform your backyard pool area into a lush tropical paradise that looks like your favorite resort. Hardy palm tree varieties like needle palms and windmill palms are tough enough to withstand the winter lows in USDA Growing zones 7-8. For that island feel, include pots of flowering plants like hibiscus and bougainvillea. Keep in mind that these tropical plants will not survive Georgia winters, so make plans to bring them inside after the season or buy replacements next year.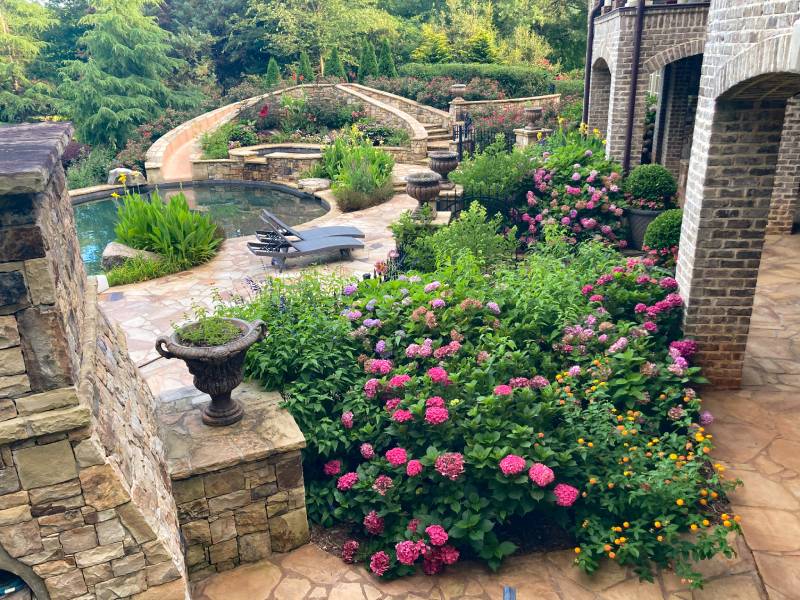 Embrace Mediterranean Vibes
Bring the charm of the Mediterranean to your poolside landscape with a combination of clean lines, clay pots and vibrant foliage. Incorporate plants like olive trees, rosemary and lavender for their fragrance and beauty. These plants thrive in the Atlanta area's warm climate and provide a Mediterranean touch to your outdoor space.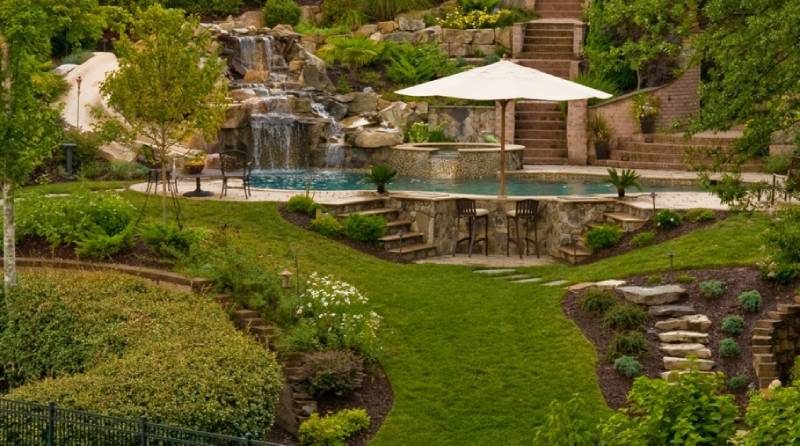 Get Zen with a Japanese Garden
If you prefer a more tranquil and Zen-like atmosphere around your swimming pool, opt for a minimalist design. Bamboo is an excellent choice for creating privacy, while Japanese maples offer a touch of elegance. Avoid overcrowding your space and keep plants trimmed and contained. Japanese gardens tend to be monochromatic, employing various shades of green. Use pops of color sparingly and create movement and flow using crushed stone or paved pathways.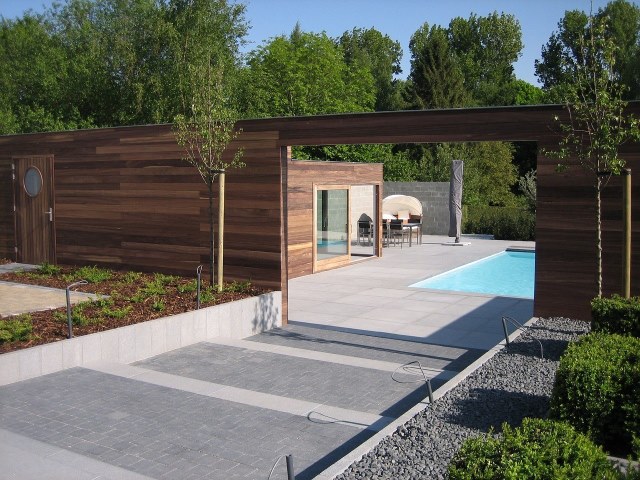 Create a Colorful Cottage Feel
For a vibrant and romantic poolside landscape, embrace the charm of a cottage garden. Plant a mix of colorful flowers such as Shasta daisies, black-eyed Susans, and coneflowers. Include climbing roses (planted a safe distance away) and blooming vines like clematis to add vertical interest. The variety of textures and colors will create a lively and inviting space.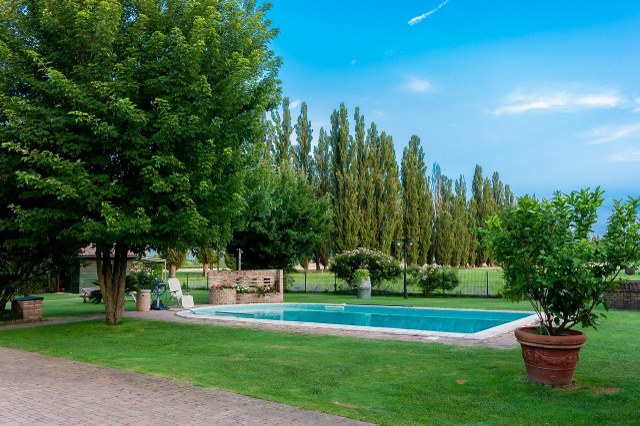 Bask in a Low-Maintenance Desert Oasis
You don't have to live in the desert to appreciate its' unique vibe. Not only is a poolside desert oasis low maintenance, it's also great for water conservation. Opt for drought-tolerant plants like agave, yucca, and cacti. These plants thrive in warm climates and use minimal water. For color, consider plants like lantana that provide abundant blooms while tolerating drought conditions. Add decorative rocks and gravel to complete the arid landscape, and you'll have a stunning, eco-friendly oasis.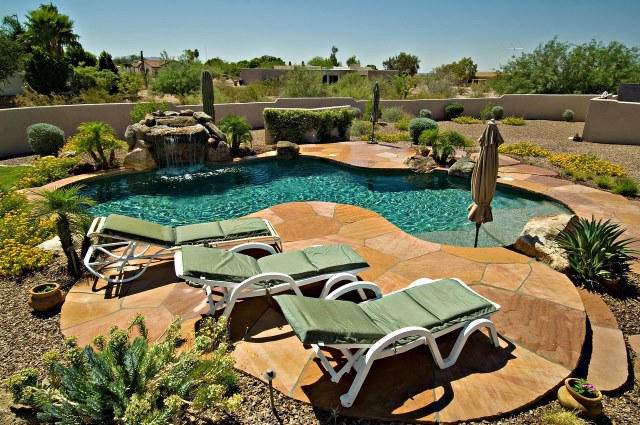 Add Poolside Privacy with Living Walls
Privacy is often a top concern when it comes to pool landscaping ideas. Planting dense hedges is a great way to create privacy while also softening your hardscaped space. Boxwood, Japanese privet, and arborvitae all make excellent natural "walls." As an alternative, consider installing trellises around your pool. These structures can support climbing vines like Carolina jessamine or wisteria that will add color as well as privacy.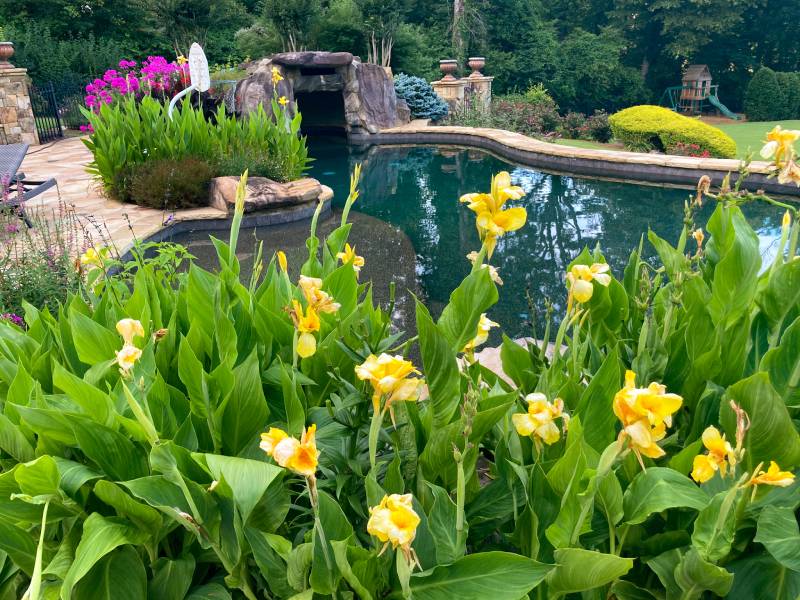 Let the View Do the Talking
If you're fortunate to have an outdoor "room with a view," ornamental landscaping might be superfluous. For color, consider adding low planters that you can change out with the seasons. A sleek fire pit table is another way to create interest without detracting from the natural surroundings. Otherwise, the vista probably makes enough of a statement.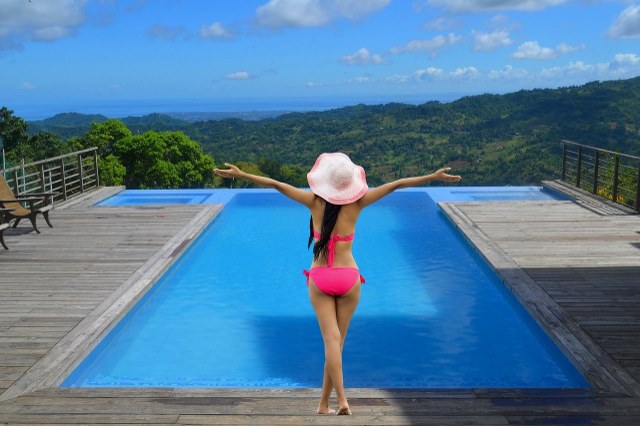 Keep It Natural
Landscaping doesn't have to look cultivated to complement your pool. Native plants are great additions to outdoor living spaces because they're both hardy and often drought resistant. Integrate existing trees with native ornamental grasses like pink muhly grass or blue zinger sedge to add visual interest. This is a great way to keep your pool area maintenance requirements as minimal as possible.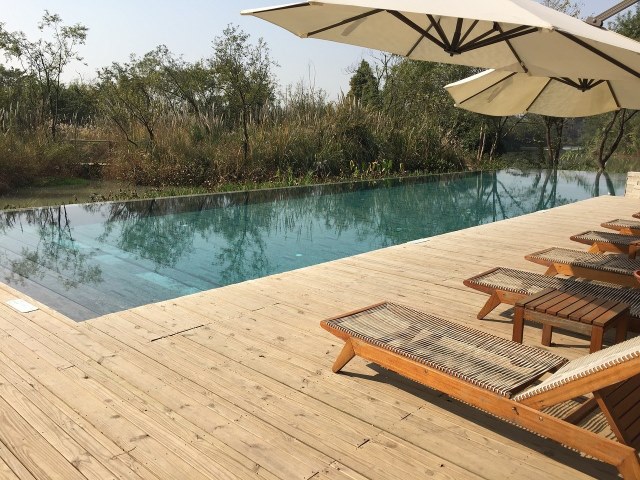 Add a Fireplace
In addition to softscapes, hardscaping is a great way to make your pool area more appealing. Many homeowners close up their pools after the summer season. However, a fireplace and cozy seating area creates an outdoor living space that encourages use even in colder weather. Consequently, adding a source of heat is one of the more practical pool landscaping ideas.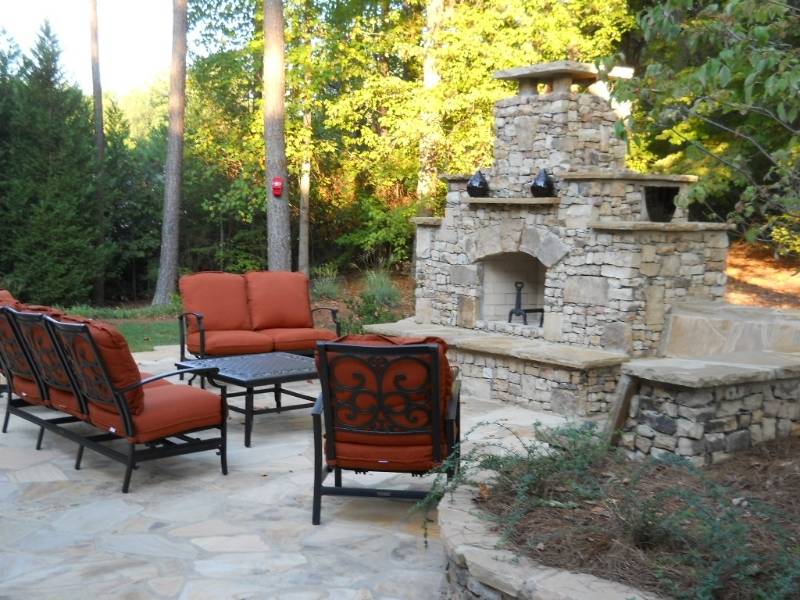 Or an Outdoor Kitchen
There's little question that swimming makes you hungry. Fresh air, sunshine and exercise seem to increase the need for more frequent snacks. Incorporating an outdoor kitchen into your pool area makes food access more convenient. It's also a great way to elevate your entertainment space for hosting family, friends, and neighbors. Additionally, a covered dining area allows swimmers to find some relief from the heat of the sun.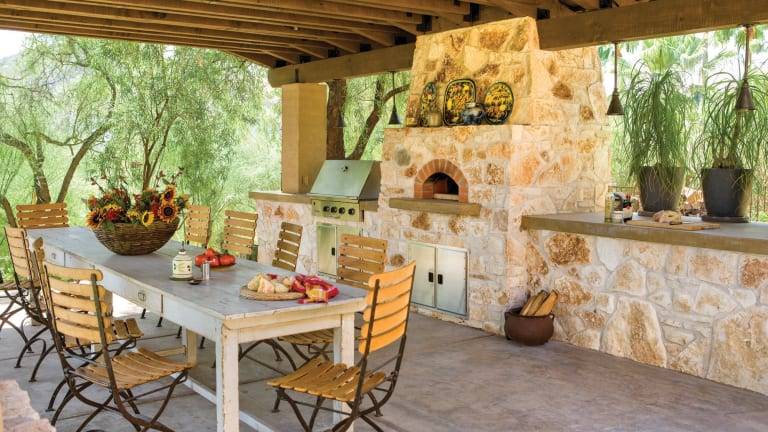 Things to Consider
When landscaping a pool area, there's more to consider than aesthetics. For example, some trees tend to shed a lot, which creates a lot of additional maintenance. Plants like roses and agave often have sharp thorns which can cause painful injuries. Other varieties have invasive root systems that can damage the concrete or pavers around your pool deck.
That's why it's important to base your pool landscaping ideas on research rather than appearance. A qualified landscape professional can help you make informed choices. They know which plants will give you the look you want, without making costly mistakes.
If you're looking for a professional landscaping partner, Creech Landscape can help. With over 25 years in the industry, we know how to build beautiful and functional landscapes from the ground up. If you're ready to make a splash with your own outdoor oasis, get in touch with us today.