If you're considering a new landscaping feature in your area, consider a creek. Creeks add beauty to your yard, especially during fall. While many creeks are naturally occurring features, a creek path in your landscaping is an aesthetically pleasing drainage solution. Professional landscaping companies can take an unassuming corner of your home's exterior and create a gorgeous creek path. We'll explore five stunning creek landscaping ideas, whether you prefer a rustic look or a more modern approach. These ideas enhance your outdoor space and curb appeal plus attract potential buyers to your property. 
Curving Dry Creek Beds with River Rocks
Not all creeks have water year-round. Creating a dry creek landscaping idea's winding design adds visual interest to your yard without the challenges of an active water feature. Stones, pebbles, and larger rocks combine to mimic the natural deposition of stones. It is great for yards with poor drainage, frequent flooding, and standing water by providing a new path of least resistance for excess water.
A meandering dry stream bed looks great on its own, but adding accent plants softens the transition between the stones. Some of these plants include native grasses, ferns, and mosses. These will introduce a touch of green and make the dry creek feel more natural. Be sure to choose plants that thrive in moist environments and can withstand occasional flooding.
Water Flow Creek Beds with Rain Gardens

If you have a low-lying front yard that naturally collects rainwater, you may want to build a creek bed promoting water flow. Unlike a dry creek bed, a water flow creek bed collects water and does not drain immediately.
Building a creek bed by a drain spout, along a slope, or in a depressed area keeps the water away from your foundation. It provides a pleasant, quiet, continuous sound following the storm. Placing large boulders alongside pops of colored vegetation creates the illusion of a natural stream winding through your property.
To make this design even more effective, place a rain garden alongside the creek bed. This eco-friendly garden design takes advantage of depressions in your yard to create a beautiful, functional space. Rain gardens work best with native plants adapted to the environmental conditions of your area. Look for local wildflowers, shrubs, ground cover, and perennials for this section of your landscape.
Tiered Dry Creek Beds for Sloped Properties
Sloped yards suffer from drainage problems. Take some inspiration from the ancient practice of terracing and experiment with a tiered or multi-level creek bed. Tiered dry creek beds work simultaneously to create appealing and functional design elements with the land's natural contours.
This design is similar to a regular dry creek bed. There are multiple levels allowing water to cascade from top to bottom as it drains, creating a waterfall effect.
You can choose to have a relatively straight cascade or allow the water to meander down the hillside with a switchback pattern. This design looks great with lots of water-loving greenery, including ferns, hydrangeas, and other leafy green plants.
Natural Oasis
Natural creeks are more than just a water feature. They serve as an important source of nutrition and habitat for local plants and animals. Consider creating a natural oasis with your creek to create some healthy habitat in your yard. This landscaping idea works best with ponds or other regularly filled sources of water ensuring the creek is wet for most of the year.
To create a beautiful landscape feature that suits your local environment, choose native plants to plant alongside your creek. Specifically, plants that support pollinators like bees and butterflies. Seed-bearing flowers and fruiting plants provide habitat and food for birds and other small creatures. You can even set up hummingbird feeders, suet feeders, and other supply stations to make a haven for you and your wild neighbors.
Japanese Zen Garden Theme
Stones, plants, and water are the primary components of a Japanese Zen garden. The water element symbolizes purity, clarity, and renewal. Adding a Zen Garden-themed creek to your landscaping design promotes mindfulness and creates a sense of calmness.
When creating a Zen garden, simplicity is key. You can add authentic Japanese greenery such as maple trees and bamboo with lanterns, light fixtures and meditation spaces.
Foliage for Creek Landscaping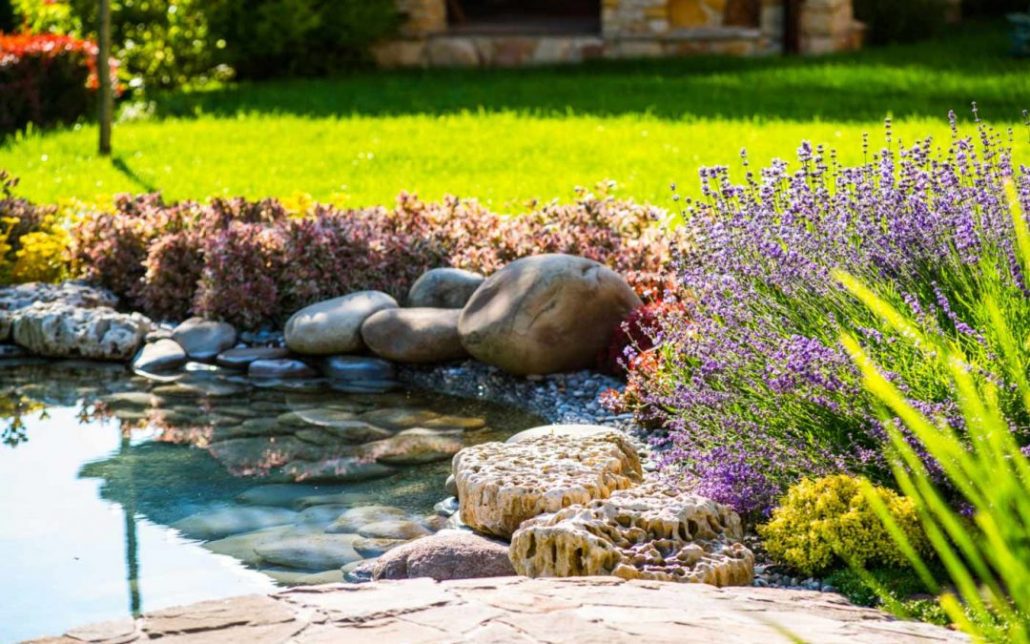 An important element of any landscape project is choosing the right plants. Unless you live in a very dry area with little rain, your creek bed is likely going to be both decorative and functional. This is one of the easiest ways to improve your lawn's drainage.
For dry creek beds, plants able to deal with variable amounts of water are a must. Yarrow, foxtail fern, rosemary, and limonium are examples of drought-tolerant plants. Contrastingly, they are able to withstand a good soak every once in a while.
Daylilies, irises, rose mallow, hydrangea, and even small dogwoods are good choices for many zones for this type of creek. Ornamental grasses and sedges also tend to do well around creek landscaping and are usually quite hardy and beautiful.
Maintaining healthy foliage starts with a strong foundation. Most landscapers start with landscape fabric to line the creek. This process prevents weeds from surfacing into the build of a dry creek (or wet).
Contact Creech Landscape for More Creek Landscaping Ideas
Feeling inspired to put a creek in your yard or improve your home's curb appeal? Ready to build an eco-friendly solution to your water drainage issues that is both beautiful and functional? If you're in the greater Atlanta area, bring your dreams to Creech Landscape.
With over 25 years in the industry, we can help you achieve the best results for your creek landscaping project. We can help you elevate your yard with the perfectly designed and functional creek. Contact us today to get started!